MELBOURNE CUP LUNCHEON 12-3pm

WATCH THE RACE THAT STOPS THE NATION!
Dress to impress and join us at Trinity Beach Sports Club for this year's Melbourne Cup Luncheon. For only $58.00* per person, you will enjoy a delicious hot and cold buffet including oysters, king prawns, smoked salmon, green-lipped mussels and fresh reef fish, we will also welcome you with a complimentary glass of Oyster Bay sparkling or Corona.
All in airconditioned comfort, there will be Live music, sweeps, Fashions on the Field with great prizes, Lucky Door, free Mystery Bet ticket giveaways,  TAB facilities on site and watch all the racing action on the Mega 3×3 Screens.
Bookings are essential, please phone the club on 40 576478 today.
PASSPORT TO PARADISE
DREAMING OF A HOLIDAY?
Dreaming of a Holiday?  
Complete your Passport to Paradise at Trinity Beach Sports Club
to Win a 5 night escape to the magical Whitsunday Apartments Hamilton Island
Accommodation is for up to 2 adults and 3 children in a 1 bedroom apartment. *Local transfers are included.
Simply purchase a drink from the specialty Diageo range in the Bar, receive a stamp for 5 drinks purchased, receive your 6th "complimentary" and place your completed Passport to Paradise in the draw barrel.
Winners must be present at the draw on Friday November 5 at 7.30pm.

*T&C apply
CASH & CARRY

SEPTEMBER IS A DOUBLE PRIZE POOL – $10K WORTH OF PRIZES!
$5,000 PRIZE POOL TO BE WON EACH MONTH!

1 X $1,000 LUCKY DOOR AND 1 X $500 LUCKY DOOR – Receive an entry on draw night by swiping your membership card in the kiosk on entry.
1 X $1,000 LUCKY POKIE AND 1 X $500 LUCKY POKIE PLUS $2,000 IN ELECTRICAL GOODS – Earn entries for every $10 spend on gaming and pos transaction during the month.
Drawn from 6-9pm on the last Saturday of each month.
Next Draw date is: Saturday 25th September .
Terms & conditions apply to all promotions. Ask our friendly reception staff for further details.
FRIDAY KARAOKE AND COCKTAILS
CREATIVE COCKTAILS AND KARAOKE FUN

Don't miss our Karaoke and Cocktails night on the first Friday of each month from 7.30pm till late. Bring your best voice for a fun night of Karaoke with cocktails with our resident mixologist.
Terms & conditions apply to all promotions. Ask our friendly reception staff for further details.
THURSDAY NIGHT JAG THE JOKER
JAG IT AND WIN THE JACKPOT!
Simply swipe your card at the kiosk for entry into the Jag The Joker Draws. Jackpot starts off at $100 and increases $50 each week if not won. Drawn 7.30pm every Thursday night. 
Terms & conditions apply to all promotions. Ask our friendly reception staff for further details.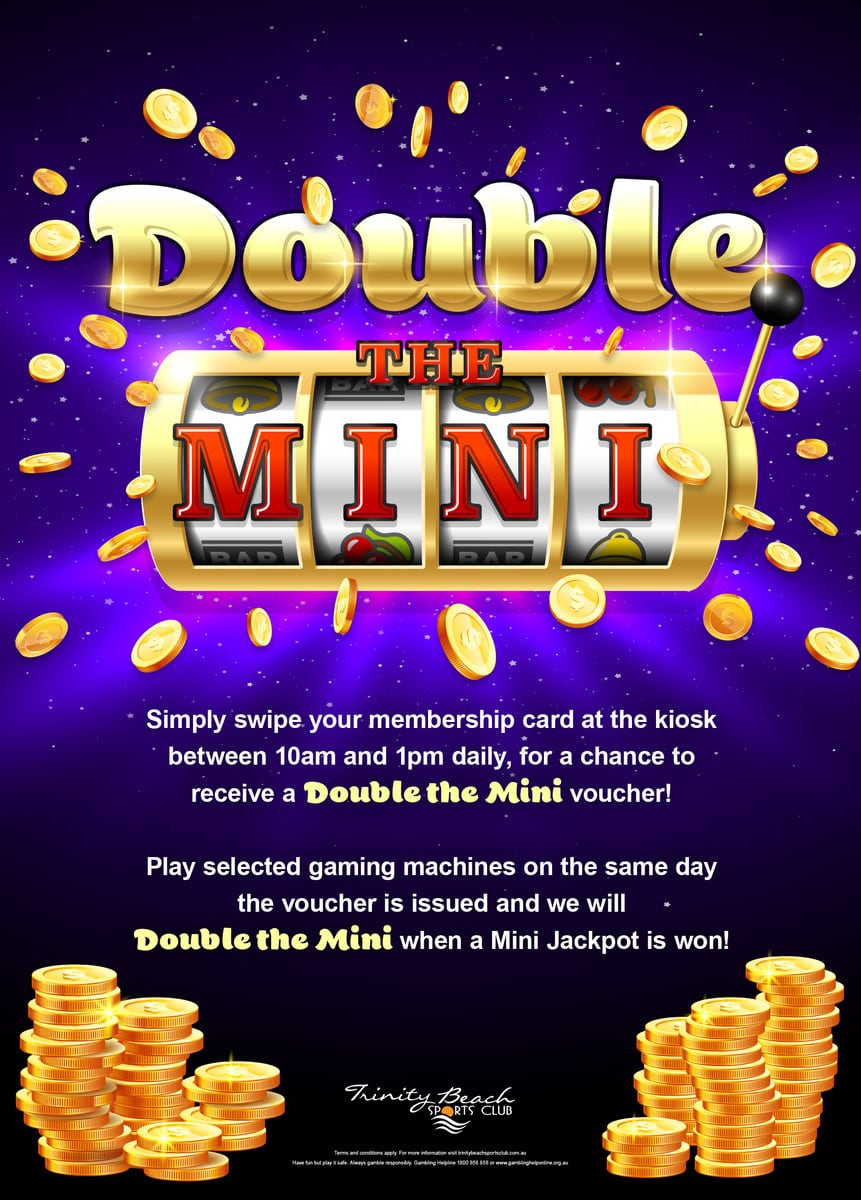 DOUBLE THE MINI!

DAILY GAMING PROMOTION
Use your membership card at the Kiosk between 10am and 1pm for a chance to receive a "Double the Mini" voucher.
Play the selected gaming machines that same day the voucher is issued, and we will "Double the Mini" when a Mini Jackpot is awarded on the gaming machine.
One voucher equals one win on day of issue, if the member receives more than one voucher when swiping their card in the kiosk, then they can claim one "double the mini" for each Mini Jackpot awarded on the gaming machines per voucher.
*Terms and conditions apply. Must play 1cent spins on selected gaming machines, which will be clearly marked for participation in the promotion. Vouchers are only valid on the day of issue.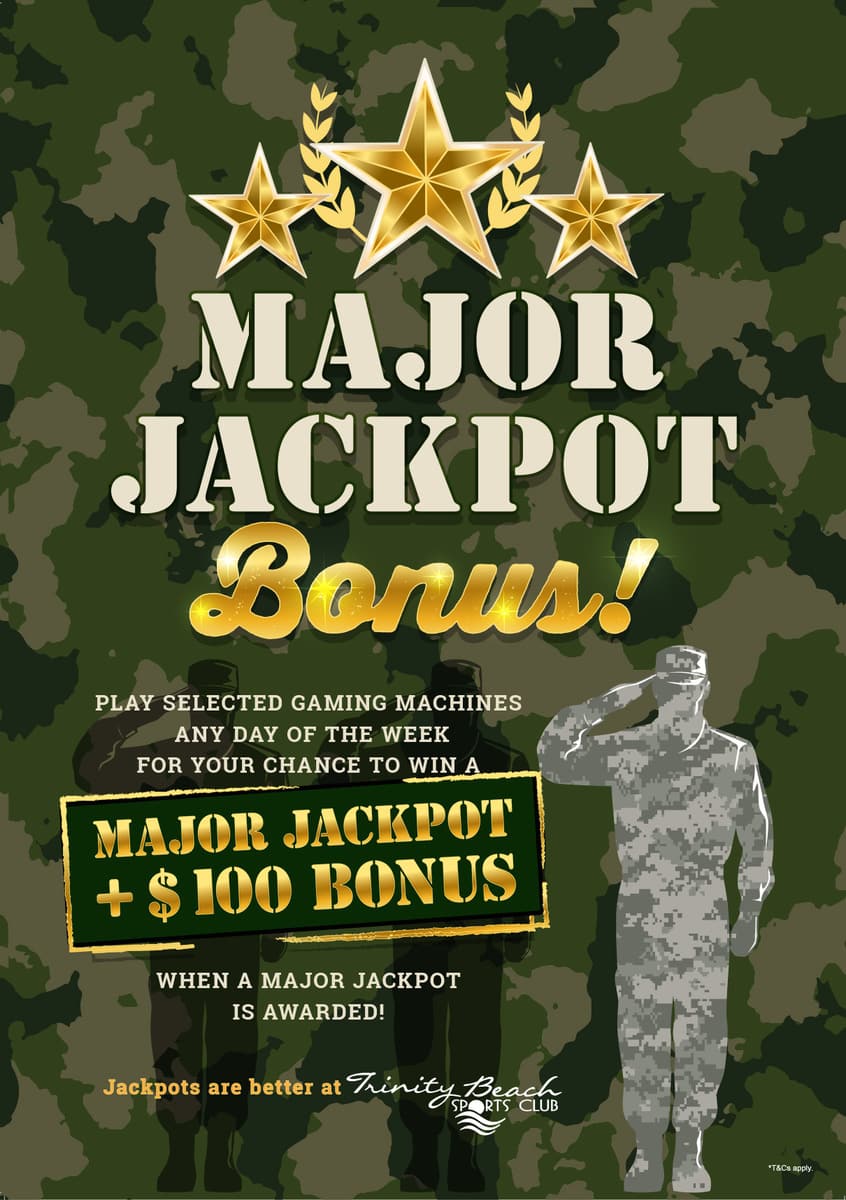 MAJOR JACKPOT BONUS
WIN A MAJOR JACKPOT AND RECEIVE $100 CASH BONUS
ATTENTION! COMPANY HALT!
Cazalys, Souths and Trinity Beach Sports Club have a MAJOR announcement.
Win a Major Jackpot in our gaming rooms and we will give you a Bonus of $100 Cash.
So…MARCH on down to the club.
*T&C apply
*Selected Machines
*always gamble responsibly