WHY SIGN UP?
Trinity Beach Sports Club has plenty of membership benefits, so often times it makes more sense to become a member, even if you only drop in sometimes.
MEMBERSHIP BENEFITS
RANDOM REWARDS
Every time you come in and swipe your card, you could be one of the lucky ones. With the kiosk randomly printing out drink and club cash vouchers.
DISCOUNTED DRINKS
Make sure you hand staff your membership card when you purchase drinks at the bar, this will allow you to receive an automatic discount on your drinks.
GAMING ROOM REWARDS PROGRAM
Do you want to earn points every time you play the gaming machines? All you have to do is to insert the card into the slot at the front of the machine and you will start to earn points. You can then claim cash for your points by printing a voucher from the kiosk which is located at the main entrance.
CORPORATE PARTNERS
GREAT ADVENTURES – 50% OFF GREEN ISLAND TRANSFERS
Cazaly's Members receive a 50% discount on Green Island Rates with Great Adventures, and 40% off Great Adventures Pontoon!
To book, simply visit www.greatadventures.com.au
Select your desired date for your trip, and enter the promotion code "CLUB" before checking out to receive your discount.
Terms and conditions apply, dates are subject to availability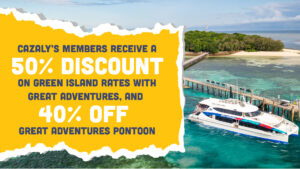 HARVEY NORMAN CAIRNS – VIP DISCOUNT
Terms & Conditions as signed off by the sponsor
Present this card at Harvey Norman Cairns to receive exclusive Cazalys Cairns Members Only Discount.
Support the sponsors that support your club.
To view all current discounts
Conditions: Members need to show their valid current membership card and provide ID to gain this offer. This offer is subject to Westco Motors Cairns terms and conditions.

TRINITY PETROLEUM MEMBERS OFFER
Trinity Beach Sports Club members are now offered exclusive discounts with 17 Retail locations (locations printed on the back of each card) around Cairns.
Members will receive 5 cents per litre discount off all fuel grades (excluding LPG) up to a daily total of (120L).
A further *5% discount off Café and shop (there are some shop items excluded e.g. cigarettes see t&c's below).
Members discount cards have a scannable bar code which they will scan at Point of Sale to receive the Club Discount.
* Payment must be via cash, EFTPOS or credit card. Trinity Petroleum Discount Card must be presented to be eligible for the discounts. Shop discount is off the full retail price on all shop purchases excluding cigarettes, any Telco items, Touch, newspapers and magazines. The discount does not apply to items already discounted due to any other promotional offer. The Customer Service Attendant can confirm the items this discount applies to.Trinity Petroleum Services Pty Ltd reserves the right to suspend, terminate, or vary this Retail Shop & Fuel Discount offer at any time. DISCOUNT IS ONLY AVAILABLE AT TRINITY PETROLEUM'S PARTICIPATING MOBIL BRANDED SITES – to find out which sites are currently participating, CALL: 07 4035 5888 or VISIT the website./span>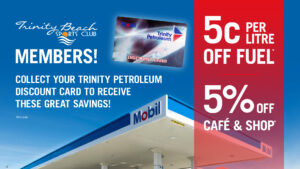 CINEBUZZ SPECIALS
EVENT CINEMAS OFFER
Join the cinebuzz club and in the Promo Code section enter the code word  'Cazalys22′ to unlock special deals such as hot ticket price, special seasonal ticket deals or exclusive F&B Candy bar offers.
This will only be available to members that join using the special code.
*Terms & conditions apply, Certain sessions will not be valid (i.e. special events such as Chicks at the Flicks, concerts, alternate content etc).  3D and Vmax surcharges will still apply and a $1.20 online booking fee will also apply to all online bookings.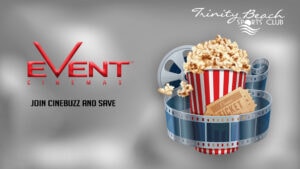 MANTRA GROUP
10% OFF MANTRA GROUP TNQ PROPERTIES
Mantra Group offers Cazalys group members (South Cairns Sports Club, Cazalys & Trinity Beach Sports Club) 10%* off the daily rate at a range of Peppers, Mantra & Breakfree properties across Tropical North QLD. With 11 properties from Cairns to Port Douglas, Mantra Group is the perfect choice to suit all your needs.
To book and receive 10% off your accommodation: Visit http://www.mghotels.com.au, choose your preferred hotel, Select your dates & number of people, Input promo code 'Cazalys' & select search, Select room type, hit book & proceed to payment.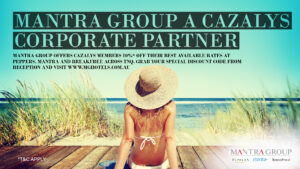 HOW MUCH DOES MEMBERSHIP COST?
Social 2022  
  (1 year)    $5.00
Seniors 2024
   (3 years)  $5.00
Full Voting Member 2022
(1 year)  $55.00
DOWNLOAD MEMBERSHIP APPLICATION